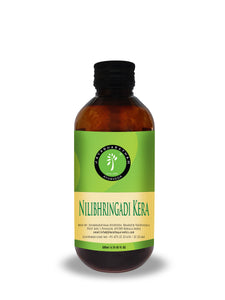 Nilibhringhadi Keram possesses anti-fungal and anti-dandruff properties that treat scalp infections

Renders strength to the hair shaft to prevent breakage

Contains coconut oil that promotes hair growth

Retains protein in order to prevent hair loss

Acts as a natural coolant; can be used for a relaxing head massage to calm the mind
- DIRECTIONS OF USE:
Nilibhringhadi hair oil is to be massaged gently into the scalp and then applied to mid-lengths and ends. Continue massaging your scalp for 5 to 10 minutes, and then wash off after 30 minutes using a herbal shampoo. Avoid using any chemical-based products on your scalp or hair while you are using Nilibhringhadi oil.
For best results, consult an Ayurveda practitioner. However, it is generally recommended to use the oil once or twice a week.
Qty: 200ml