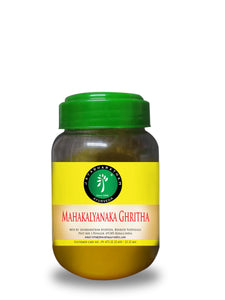 - BENEFITS:
Helps prevent and cure diseases that occur due to the aggravation of Vata and Pitta.
Enhance fertility. 
Improves menstruation and fertility in women. 
Helps to improve memory power and concentration. 
Highly efficient in treating a plethora of mental conditions including Schizophrenia, Obsessive Compulsive Disorder, Attention Deficient Hyperactive Disorder and Paranoia.
It helps in treating respiratory diseases like the common cold and cough as an adjuvant.
It is useful in treating anemia, epilepsy and psychosis.
- DIRECTIONS OF USE:
It is normally recommended to consume a quarter to half spoon of this medicine in an empty stomach two to three times a day.
It is highly recommended to consult an ayurvedic physician before consuming this medicated ghee.
Qty: 150ml