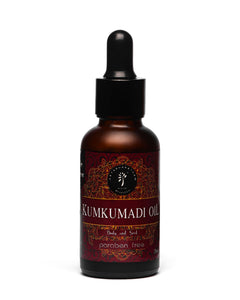 MASSAGING INTO THE SKIN HELPS IN BLOOD CIRCULATION WHILE HYDRATING AND SOFTENING 

THE SKIN LEAVING IT WITH A FRESH GLOW.
CONTAINS VITAMINS AND ANTIOXIDANTS BENEFICIAL TO THE SKIN

HELPS CLEAR SPOTS AND LIGHTEN SKIN TONE

ENHANCES COMPLEXION

QTY: 25ML
DIRECTIONS OF USE:
MASSAGE INTO THE SKIN IN SMALL CIRCULAR MOTIONS FOR 10 - 15 MINS. LEAVE IT ON FOR ANOTHER 15 - 20 MINS AND WASH OFF WITH A MILD FACE WASH (FOR OILY SKIN, WE RECOMMEND THE JAYABHARATHAM NEEM FACE WASH).
INGREDIENTS:
CROCUS SATIVUS/SAFFRON: Protects against UV radiation, Fights Inflammation, Reduces Hyperpigmentation, Anti aging Properties.
LACCIFER LACCA/LAKSHA: Improves Skin Complexion
RUBIA CORDIFOLIA/ INDIAN MADDER: Helps in management of various skin diseases like acne, infections, wounds etc. due to its anti inflammatory, antibacterial and antioxidant properties. It also helps to improve skin complexion and reduce dark spots.
LICORICE: Has a good reputation as being helpful for sensitive skin. A natural skin lightening alternative.
BERBERIS ARISTATA/ INDIAN BARBERRY: Heals minor skin issues, evens skin texture. Provides an anti bacterial and anti fungal effect on the skin and balances out excess sebum production.
VETIVERIA ZIZANIOIDES/ VETRIVER:  Skin cell regeneration and boosting the growth of new cells. Facilitates wound healing, effectively reduces scars, blemishes, and marks due to acne, burns or pox by removing dead skin cells from the body and hence bestows a radiant skin.
PRUNUS CERASOIDES/ WILD HIMALAYAN CHERRY: Ayurvedic herb used for the treatment of skin diseases and increasing the skin's complexion.
NYMPHAEA STELLATA: Among other benefits balances oiliness of skin.
FICUS BENGALENSIS/INDIAN BANYAN: Helps in quick healing of skin abscess and prevents further infections. Blocks the activity of many allergens on the skin which causes acne problems.
FICUS LACOR
NELUMBO NUCIFERA: preserves the skin's inherent moisture and makes it well-hydrated. Denatures the skin's protein such as dead skin cells, dead bacteria and helps cleanse and improve complexion.
DID YOU KNOW?

Saffron , the main ingredient in Kumkumadi Glow Oil is a very rare Ayurvedic spice, which is precisely what makes it so costly.
The plant can only be harvested for two weeks out of the year, and each saffron flower has to be handpicked.
Saffron is an all-around healing powerhouse, both internally and externally.