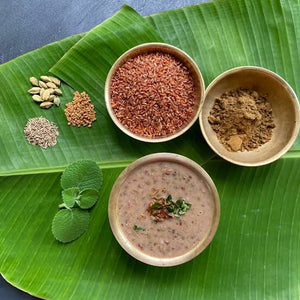 MONSOON HEALTH KIT
Karkidaka Kanji, Oushadha Kanji is one of a unique medicinal porridge
traditionally popular in the South Indian state of Kerala during the rainy season.
The Malayalam month of Karkidakom roughly falls in between July and August of
the Gregorian calendar. During this time, with the incessant rains beating down
the roof, this month is spent in rejuvenation of the mind and body.
The unique combination of herbs, spices and rice in this dish would keep the monsoon fevers at bay and have a positive effect against some of the common diseases of rainy
season like arthritis (Vatham in Malayalam). This is a special diet in Ayurveda
which is good for the people of all age groups as it would help to improve the
immunity of the body and acts as a detoxifying agent.

It is recommended that one should have this 'medicinal porridge' continuously for 7 days or multiplies of the week like 2 weeks (14 days), 3 weeks (21 days) etc. for optimum result.
Health Benefits
1. Good for diabetes
2. Reduces cholesterol
3. Good for arthritis
4. Aids digestion
5. Removes toxins from the body
6. Improves Immunity
7. Provides energy
Ingredients for 600 gm:
Navara Rice - 500 gm
Green gram -50 gm
Herbal mix-50 gm ( Fenugreek seeds, Dried ginger powder, Crushed pepper, Jeera, Turmeric powder, Garlic, Carom seed )
Preparation
1. Wash the rice and boil it in 1 litre water.
2. Add fenugreek seeds and continue boiling.
3. Once boiled, pour in the coconut milk, wait till it starts to boil again, and immediately take off the
flame.
4. Add the rest of the spices, mix-well and keep covered for a while.**
5. Serve hot.
**
For Diabetics – Add Uluva and Cherupayar (Green-gram) to the above recipe.
For Hypertensive Patients – Add Thazuthamma (Boerhavia) and Muringila (Drumstick leaves)
to the above recipe.
For Asthma Patients – Add Putharichunda (Solanum trilobatum), Jirakam (Jeera), Kurunthotti (Country Mallow), Chukku to the above recipe.
For Hyperlipidaemia Patients – Add Thazuthamma (Boerhavia), Curry leaves, Muthira (Horse gram), Uluva to the above recipe.
For Patients with Renal Complaints – Add Thazuthamma (Boerhavia) to the above recipe.


*THIS PACK IS MEANT FOR
2 TIME SERVES FOR 5 PERSONS